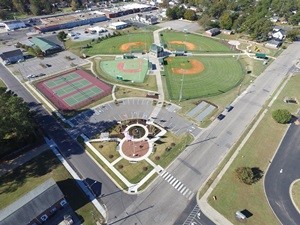 Location
The Dunn Parks & Recreation office is located in the Dunn Community Center at 205 Jackson Road on the back side of Tart Park.

Mailing Address
City of Dunn
Parks & Recreation Department
P.O. Box 1065
Dunn, NC 28335
Hours
Our office hours are Monday through Friday from 7:30 am to 4 pm

Phone Number
(910) 892-2976
Fax Number
(910) 892-7001
Email Address
dunnparksrec@dunn-nc.org
Announcement
The Splash Pad at Tyler Park is now open for the 2019 season!
Grand opening: Thursday, May 30, 2019 from 2 pm to 8 pm
Monday - Friday: 10 am to 8 pm
Saturday and Sunday: 9 am to 8 pm

Online Registration & Current Programs Available
We are excited to announce our new online registration. Our new website link at https://dunnparks.recdesk.com/Community/Home is powered through RecDesk. This new and interactive website provides real time updates about our Recreational activities. You can use you mobile device or computer to create a profile and register for programs. This will also allow the use of debit and credit card payments online and at our office. We require a birth certificate at the time of registration if we do not have one on file already for any sport registration. New participants must register in our office.