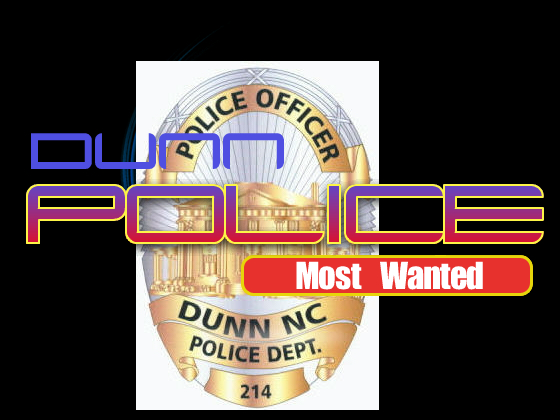 This is the MOST WANTED Criminal Site
Dunn PD will list their most wanted Criminals here.
WANTED
Updated February 4, 2010
John Douglas Henry AKA" Smoke"
Warrant for Arrest for 3 cts PWISD Cocaine
3 cts Sell/Deliver Cocaine
2 cts Conspire to Sell/Deliver Cocaine
Joseph Bethea AKA "El Boogie"
Warrant for Arrest for 2 cts. PWISD Cocaine
2 cts Sell/ Deliver Cocaine
Charles A. Woods, Jr. AKA "Pink Panther"
Wanted by Harnett Co. Probation Office for Absconding on Dunn PD Case
Charles Scott Hopkins
Order for Arrest for Possession of Drug Paraphernalia and Felony Possession of Cocaine
Order for Arrest for Larceny of Motor Vehicle, Injury to Personal Property, and Resisting Public Officer
US Marshall's hold warrants on
Jeramy Lee Robinson DOB: 6/4/86 B/M
Joaquin Ramirez
Warrants for Arrest for: Attempted First Degree Murder
Firearm Violation Domestic Order
Joaquin Rangel Ramirez, 34
Hispanic male, 5 feet 6 inches tall, 150 pounds, with black hair and brown eyes. Last seen wearing a blue and yellow jacket.
Wanted for allegedly shooting his estranged wife Saturday Night, November 10, 2007.
Ramirez left the scene in a vehicle believed to be a white pearl 2002 Cadillac Escalade with white rims, tinted windows and North Carolina license tag number VZT9795.
Charlie Frank Chestnutt Jr
Warrant for Arrest for: Obtaining Property by False Pretense
Any information call the Dunn Police at 910-892-2399 -or- Crime Stoppers 910-892-2222
Crime Stoppers will pay up to $1,000 for information leading to the arrest of any of these individuals.