Current Projects For The City Of Dunn
Paving Project

The approved resurfacing program of 2017 contains a list of proposed projects which are identified as being in need of work. Last year 17/18, the Public Works department contracted with a paver to do some of the smaller projects on the list. We now propose to complete a bid package which will cover at least three of the worst areas in the program:
Intersection of W. Broad St. and N. Ellis Ave.

Brunswick Dr. - 1240 linear feet

S. Washington Ave. - 1000 linear feet
List of projects approved by Council
---
April 2019 Update: The project contract was awarded to Turner Asphalt. Construction is tentatively set to begin in July of 2019 and should last no longer than 90 days from the project start date.
---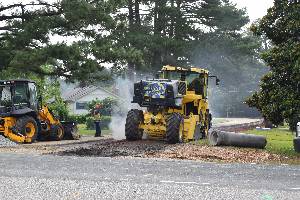 June 2019 Update: Phase one of the City of Dunn paving project is underway! Crews have started work on repairing storm drains, concrete, utilities and more on S. Washington Ave, Broad St and Ellis Ave intersection, and Brunswick Dr.
Brunswick Drive should be paved by the end of next week; work on concrete and utilities on S. Washington Ave, the intersections of N. Ellis Ave/W. Edgerton St and W. Broad St/N. Ellis Ave will also be followed by paving in the next few weeks.
For people traveling in these areas, please remember to follow directions given by crews to safely navigate the work zones. If you have any questions, please call our Public Works department at 910-892-2948.
---
As updates are made available, this information will be updated.
UPDATE: City of Dunn Water Metering Project June 2019

The City of Dunn is halfway through its water meter replacement project. The new meters will register more accurately and immediately alert the utility for instances of leaks, damage, or equipment issues.
The installers will have verification and vehicle decals identifying them as a City Contractor. They will make an effort to contact you by knocking on the door and will wait to replace the meter if your water is currently in use. Businesses will be contacted to schedule the installation to limit interruption and plan for replacement outside of normal business hours. During the meter replacement, you will experience a brief disruption in service.
When the installation is complete, crews will leave door hangers to notify you of the completed work. If you have questions related to the project, please call 1-800-819-2853.
Please click on links below for more information.